Mit wem hab' ichs hier zu tun?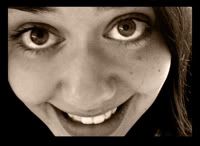 Sanne | angehende Kommunikationsdesignerin | 1,82 m hoch und glücklich damit | schnell genervt | ständig pleite, trotzdem die ganze Zeit am einkaufen | Heimliche Leidenschaft für Cartoons | Crack-Opfer
Facts|FAQ
How to make a Sanne
Ingredients:

1 part intelligence

1 part humour

1 part energy
Method:
Add to a cocktail shaker and mix vigorously. Add lustfulness to taste! Do not overindulge!